Shaykh Muhammad Amir of Karraya

Watercolour on paper
16 x 27 cms
Kolkata, Circa 1845
Amir, Shaykh Muhammad nineteenth century artist working with the East India Company. Like other indigenous company artists Shaykh Muhammad Amir of Karraya drew in a realistic manner the portraits of native and European people of different professions, as well as pictures of his European master's mansion, retainers, equipment, carriage, horses, dogs etc.

Under the patronage of his master Thomas Halroyd, the artist visited every nook and corner of European area of Calcutta and drew sketches of their buildings, domestic animals, pets etc. He made excellent tinted drawings of horses and dogs by applying European perspective. One such noteworthy painting is "Two Dogs in a Meadow Landscape" (1840-50).

Shaykh Muhammad meticulously drew in European watercolour style abandoning the Mughal qalam of gouache technique. His colourful paintings in European style reflect European realism, perspective and knowledge of anatomy. Some of his paintings are now preserved in the India Office Library, London.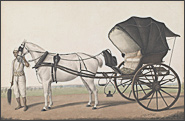 www.collections.vam.ac.uk/item/O17680/a-groom-with-a-horse-painting-shaykh-muhammad-amir/