Batavia
Portable Satin Wood Cabinet with Brass Mounts set on an Ebony Stand
Circa 1650 -1680
Overall dimensions: 138 x 70 x 48.5 cms

It was formerly in the possession of Gustaaf Willem van Imhoff, Governor General of Dutch East Indies 1740-1750. Thence, by decent to a prominent Dutch family in the Hague.

Around the third quarter of the 17th Century, there was a change in fashion and taste and furniture with all-over carving came to be seen as old fashioned. Carving became a subordinate feature or disappeared entirely. This cabinet illustrates all these changes. It is made of red satin wood with brass hinges and a brass lock plate.

The Shape of the mounts on the Indies portable cabinet agrees with, or is derived from, those found on Japanese and Chinese lacquer cabinets. The stylised lock plate on the centre of the cabinet has undulating edges and is attached by brass studs. The sides of the cabinet have simple brass handles for lifting it. The interior consists of ten drawers of varying sizes and a safe drawer with a brass lock plate.

The original function of this cabinet is not entirely clear, but it may have been intended to contain documents, or in view of the number of drawers to a house collection of some kind. This type of cabinet is virtually indistinguishable from those made in Holland. Usually the only difference is the use of tropical hard wood. In this particular case the lock-plate also betrays an oriental influence.

This Colonial cabinet is supported by an ebony stand. The legs of the stand have double spiral twist and rectangular caps above and below, ending in a bun. The rectangular top and the rails under the table top are adorned with low-relief carving of flower and leaf tendrils on a hammered background. The rectangular crossbars, attached to the bottom caps are also carved.

'Groote Shuur' Great Granary To Stately Home, page 69, Figure1 This elegant 17th century chest, fitted with small drawers, was made in Indonesia from an Oriental hardwood. The stand is of a later date. Unrecognizable under layers of paint, the chest was discovered by Rhodes's agent, Arthur Collie, in a Franshhek farmhouse

For related examples see:
1. Domestic Interiors at the Cape and in Batavia 1602-1795, Den Haag (2002)
Pl. 22 Gemeente museum Den Haag, Cat. No. OHO-1913-0002
Bequest by Miss A.C. Zegwaard

2. Furniture from Indonesia, Sri Lanka and India during the Dutch period
By Jan Veenendaal (1985)
Pl. 72 here described Cabinet of Teak with Brass Mounts, second half of the 17th century
Rijksmuseum, Amsterdam

3. Het Holllandsche Koloniale Barokmeubel
By Dr. V. I. Van de Wall, Antwerp 1939
No. 90 - Decorative Satinwood Cabinet on an Ebony Stand, second half of the 17th century, Prof. J. van Kan, Batavia 1934;
And No. 95 - Portable Root Wood Cabinet, second half of the 17th century, Museum Het Princessehof in Leeuwarden.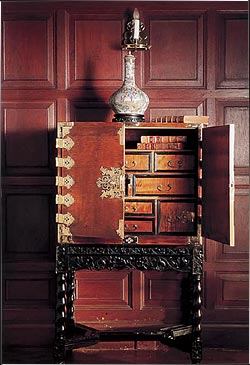 Home