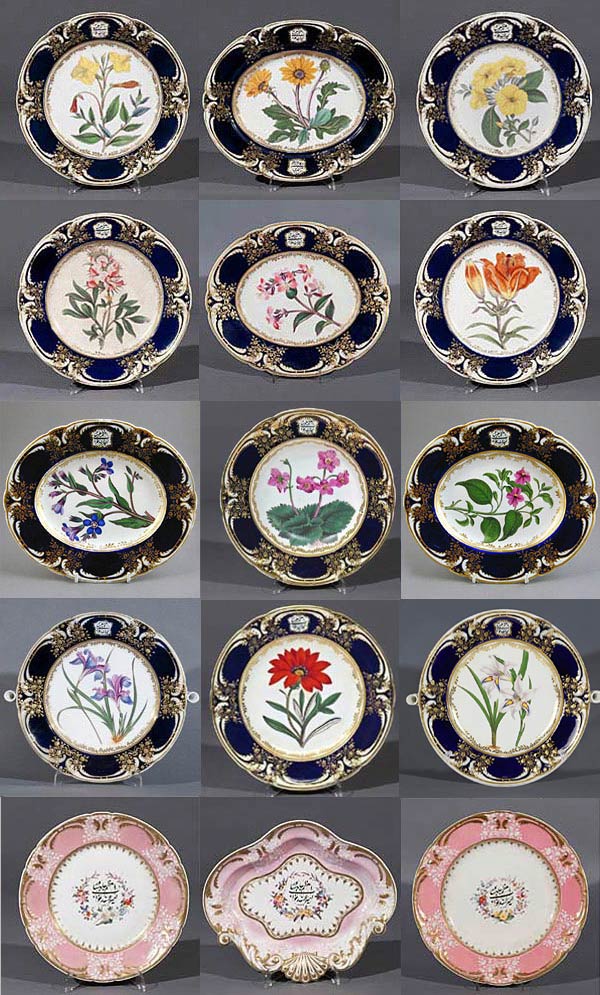 Chamberlains Worcester Plates
A service know as the Carnatic service. Twelve plates from a Blue Service, and three plates from a matching Pink Breakfast Service. All the illustrations are from Curtis's Botanical Magazine. The names of the flowers are given on the reverse of almost all of the plates. Soft paste porcelain.
Between 1820 - 1823 two magnificent services were made for His Highness Willajah Nabob Auzum Jar of the Carnatic, by Chamberlains Worcester. The blue service has an embossed blue and gold border with the insignia of the Nawab, and the central portion is decorated with copies of Botanical illustrations taken from Curtis's Botanical Magazine. The order was placed with Griffiths Cooke & Co., of Madras in 1820 but only shipped in 1823 due to the vast size of the order. The pink service carrying a similar border, the central portion is more restrained, and has the Nawab's insignia in the centre of the plate, surrounded by a floral wreath.

The inscription reads: "Amir Al Hind Nawab Azam Jah Bahadur Hirji 1236"
Siimilar dishes can be viewed in the V&A collection and the Museum of Royal Worcester


Indar Pasricha Fine Arts
+44 (0)20 7724 9541